'Drink Think' alcohol warning for pregnant mothers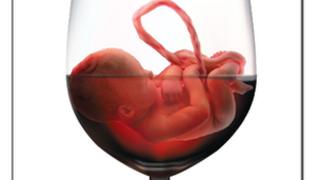 A health pressure group in Londonderry has warned of the dangers of drinking during pregnancy.
'Drink Think' claims there are mixed messages being given to expectant mothers from the various health authorities.
When an unborn baby is constantly exposed to alcohol they can develop foetal alcohol syndrome.
The Campaign called 'Too young to drink' is aimed at promoting awareness of the condition.
Joanne Smith from 'Drink Think' said a small baby in the womb could not process alcohol in the same way an adult could.
"You would never give a child or a toddler some alcohol to drink and that's essentially what you're doing if you drink during pregnancy," she said.
Derry GP Simon O'Hagan explained the dangers of drinking whilst pregnant.
"Foetal Alcohol Syndrome is a very severe condition where the baby is permanently damaged by exposure to alcohol during pregnancy," he said.
"What we're trying to do is everything possible to ensure that a healthy baby is born hopefully with no problems whatsoever."
Derry mother Caoimhe Deeney took the decision to abstain from alcohol completely during her pregnancy.
"I was aware of all the risks and I just was afraid to cause her any harm," she said.
"I'm glad now because I've a beautiful healthy baby girl and I would recommend that nobody drinks alcohol because it's too risky."