St Mary's College, Londonderry, creates its own app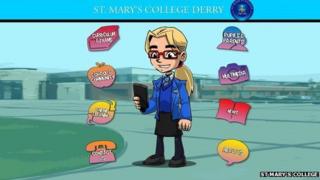 St Mary's College in Derry has joined forces with a local software company to create its own app.
The app was created by senior pupils who are studying IT and Troll Inc.
It gives parents and pupils access to useful information including GCSE pod links and photo galleries celebrating the achievements of the school.
School principal Marie Lindsay said they were delighted with how it turned out.
"Both parents and pupils are familiar with apps and it is a great way for them to access information about the school," she said.
"All anybody needs to do is go into their app store on their mobile device and search for St Marys College, Derry, and they will be able to download the app for free."
Jim Murray, CEO of Troll Inc, said it was great to see the technology being embraced.
"This was a great project to be involved in and it was exciting to work with a school so passionate about their digital strategy," he said.
The app was launched by former Britain's Got Talent contestant Jordan O'Keefe on Friday.
It is now available for download across iOS, Android and Windows platforms for mobiles and tablets.