Drugs meeting in Londonderry hears calls for detox centre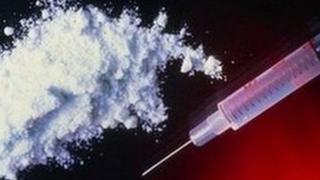 A senior policeman in Derry has backed calls for a drugs detox unit to be established in the city.
It followed a meeting on Thursday night, when three mothers who lost children to drugs addressed a public meeting.
One mother, Theresa Burke, said her 22-year-old son died after overdosing on the heroin substitute, methadone. She said he had a slow and painful death.
Inspector Alan Hutton said he thought a detox unit would help.
"Clearly a detox centre would help people who are willing to engage in that and it's bound to be of benefit to them," he said.
Theresa Burke showed graphic photographs and videos of her son's struggle at the meeting. She said she hoped that it would act as a deterrent to other young people.
"We have to tell everyone, the young ones, don't start. You don't know what it's going to do to you. If you can see what happened Keelan and hear what he was like then you will never take a drug."
She said she watched her son lie in a vegetative state for over a year after his overdose.
At that stage he couldn't seem to feel anything but then after a while the feelings seemed to come back into his nerves and every time you touched him he would scream," she said.
"It was extremely heartbreaking. I prayed he would die so that his suffering would end."
Dermot Harrigan from the Police and Community Safety Partnership, who organised the event, said the issue of drugs was constantly being brought up at their meetings.
"We could have had a meeting where police stood up and gave stats and some support agency outlining what support they give, but really the hard hitting message is from parents who've lost children as a result of drugs or legal highs."