Hospital worker suffers extensive burns in Coleraine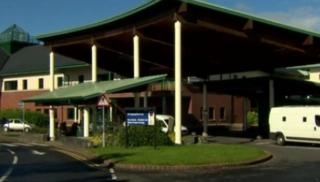 An investigation is underway at the Causeway Hospital in Coleraine after a woman suffered extensive burns to her back and arms.
Louise Moody who works at the hospital slipped on what is believed to have been a corrosive substance, outside the X-ray department on Friday.
She is currently being treated in the Burns Unit at the Royal Victoria Hospital in Belfast.
The Northern Health trust said they have begun a full investigation.
The editor of the Coleraine Times, David Rankin, who spoke to Mrs Moody on Monday, said she was in shock.
"She told me she saw this brown liquid seeping through the ceiling and splashing onto the floor. As she went to put a yellow cone near the pool she slipped and fell down on her back," he told BBC Radio Foyle.
"She jumped up immediately and felt a burning sensation on her back like boiling water. She thinks it was sulphuric acid, but whatever it was, it was certainly corrosive because when she pulled her blouse off it just disintegrated.
"Medical staff have said she may need a skin graft and it seems she could be scarred for life because of this."
In a statement the Northern Health trust said "an incident occurred in a corridor in Causeway Hospital on Friday 22 August".
"Unfortunately, a member of staff was accidentally injured.
"No services have been disrupted and the hospital is functioning as usual.
"A full investigation into the situation has commenced, therefore, the Trust can make no further comment at this time."
DUP MLA Adrian McQuillan said he was very disturbed to hear about the incident.
"This was a shocking incident and my thoughts go out to Louise and her family. I hope that she can make a full recovery," he said.
"What would have happened if a little child had fallen into this puddle. It doesn't bear thinking about."