Foyle Pride parade takes place in Londonderry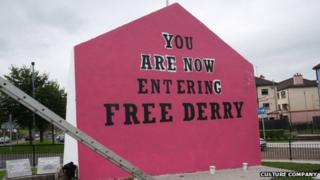 Thousands of people have taken part in the 2014 Foyle Pride parade in Londonderry on Saturday.
Last year, the festival celebrated 20 years in existence.
Free Derry Corner has been painted pink and the Guildhall clock has also been turned pink.
The first festival took place in 1993, 11 years after homosexual acts were decriminalised in Northern Ireland. On Tuesday, a new centre for LGBT people was opened in Derry city centre.
Speaking ahead of the parade, Sinn Féin MEP Martina Anderson said Foyle Pride had become "a real fixture in the city's calendar".
"It is a great celebration of equality, tolerance and diversity," she said.
"The Foyle Pride festival recognises the huge contribution the lesbian, gay, bisexual and transgender (LGBT) community make to our society."