Two men in court after Londonderry hijacking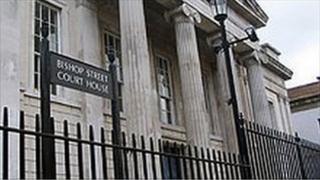 A police officer has told a court that the owner of a car that was hijacked in Londonderry failed to pick out two men charged in connection with the incident.
It happened shortly after 22:00 BST on Wednesday in the Bogside.
Brendan Meenan, 22, from the Simon Community, in Bonds Hill, Derry, and Patrick McCallion, 23, from the Methodist City Mission, Derry, face a number of charges.
Both men were remanded in custody.
A detective constable told Londonderry Magistrates' Court on Friday that the 58-year-old owner of the car, which was hijacked as he drove from Free Derry Corner towards Northland Road, did not recognise the two suspects during a police identification parade.
He said both men had been arrested in Bonds Hill after members of a police mobile patrol saw the stolen car being driven in an erratic manner across Craigavon Bridge about an hour after the hijacking.
The officer told the court that one of the accused was a front seat passenger in the car while the other accused was found hiding in a garden in nearby Primrose Street.
Both men were each charged with hijacking the car and five other motoring offences.
Mr Meenan was also charged with stealing a Visa card belonging to the car owner's wife.