Londonderry security alert: Suspicious object found in van was hoax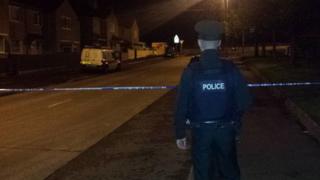 Police have said a suspicious object found inside a hijacked van in Derry was a hoax.
The alert began when the driver was stopped by two men, one believed to be carrying a firearm, on the Iniscarn Road about 20:45 BST on Thursday.
An object was placed inside the van and the driver was ordered to drive to the Diamond area. He abandoned the van at Fanad Drive and alerted police.
It is the second vehicle hijacking within two days in Derry.
A number of residents had to leave their homes overnight.
On Thursday, a lorry was hijacked in the Galliagh area of the city,
Foyle police commander, Ch Insp Tony Callaghan, said: "For the second time in 48 hours a security alert has caused a great deal of inconvenience to the people of Derry.
"Yet again a man was going about his normal day-to-day work when he was confronted by masked men and ordered to drive with what he was told was a bomb into the city centre.
Condemnation
"A large number of people had to leave their homes last night because of the misguided actions of the people responsible for this incident."
Sinn Féin councillor Kevin Campbell condemned those who carried out the hijacking.
"It must have been a terrifying experience for the driver of the van to have this happen while going about his normal business," he said.
"Once again those responsible have shown complete disregard for the people of Creggan and the wider city.
"Residents, many of them elderly, had to be evacuated from their homes while this vehicle was examined.
"This has brought nothing but disruption to the area and it is totally unacceptable.
"The people of Derry have made it clear they do not want this type of thing."