Londonderry security alert: Van hijacked in the city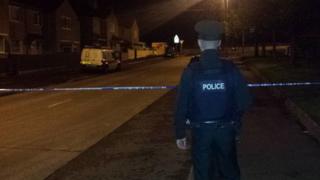 A security alert is underway at Fanad Drive in the Creggan area of Londonderry, following the hijacking of a delivery van in the city.
The vehicle was stopped on the Iniscarn Road at about 20:45 BST on Thursday.
A suspicious object was placed in the van and the driver was told to make his way to the Diamond.
The driver stopped the van at Fanad Drive and alerted the police. The road is currently closed to traffic and diversions are in place.
Army bomb experts are at the scene and a number of homes have been evacuated.
'Deplorable'
District commander for Foyle, Supt Garry Eaton, said the police were working with Derry City Council to open a shelter for any residents in need of overnight accommodation.
Sinn Féin councillor for the area, Kevin Campbell, described the hijacking as "absolutely deplorable".
He said: "No-one wants this type of carry-on. The people responsible are disrupting the entire area, they've no consideration for people living (here).
"Nobody wants it, nobody needs it. It's serving no purpose whatsoever. The area is in turmoil and people are absolutely disgusted."
It is the second vehicle hijacking within two days in Derry.
On Thursday, a lorry was hijacked in the Galliagh area of the city, but it was later declared a hoax.