Jobs boost as Dalradian's gold mining in Omagh ramps up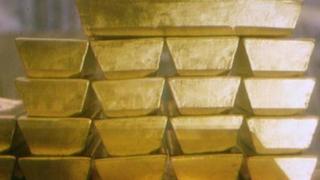 A company that is exploring the possibility of gold mining in County Tyrone is to create 19 new jobs.
The jobs are to support Canadian company Dalradian Resources' gold exploration project.
Dalradian has the mineral rights to more than 80,000 hectares in Northern Ireland.
This includes the Curraghinalt gold deposit outside Gortin, identified as one of the top ten undeveloped gold deposits by grade in the world.
The company hopes to begin mining in the next four years with the potential to employ 300 people.
Enterprise Minister Arlene Foster said this was "good news for the local economy".
"The company had the option of locating these jobs in Toronto but was swayed by Northern Ireland's cost-effective business environment and the support offered by Invest NI," she said.
"The company is looking to develop the first underground gold mine in Northern Ireland and this offers a unique opportunity to introduce specialist skills and sophisticated international resource investment into our important professional services sector."
Dalradian has been working in Tyrone since early 2010 and has completed a number of exploration programs already, growing the total identified ounces of gold by seven-fold to 3.5m ounces.
It operates out of facilities in Omagh and Gortin and employed 23 people prior to the decision to ramp up the exploration.
The new jobs will be in these centres and will support the company's pre-commercialisation work at the Curraghinalt gold deposit.
Dalradian chief executive Patrick Anderson said: "Our board, which has developed mines all over the globe, is focused on the Curraghinalt deposit in Northern Ireland because it has the right combination of geology, infrastructure, workforce and a business-friendly government.
"To date, the gold deposit has responded exactly as we'd hoped; as we've invested, it has grown and the preliminary economic assessment is very positive.
"This next phase of underground exploration, which will be managed and operated out of our Tyrone facilities, will take us through the more advanced economic assessment required to reach a mine construction decision.
"We're committed to helping to create a new industry in Northern Ireland, to hire locally and build up specialized mining skills through training over the next several years.
"Ultimately, we believe Northern Ireland can support a vibrant mining sector with well-remunerated jobs."
Invest Northern Ireland has offered more than £326,000 of support for the jobs and associated training, which will generate almost £1m a year in salaries.
Invest NI's support is part funded by the European Regional Development Fund.