Cathal Ó hOisín: Danske Bank closure a 'blow for Dungiven'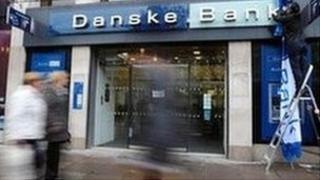 An MLA has criticised Danske Bank after it announced the closure of its branch in Dungiven, County Londonderry on Friday.
The branch, which is located in the town's Main Street, is due to merge with Limavady in November. The Maghera branch will merge with Magherafelt.
The bank said no jobs would be lost as staff will relocate to other branches.
However, Sinn Féin MLA Cathal Ó hOisín said the loss of the bank was "another blow" for Dungiven.
Speaking on BBC Radio Foyle on Friday, Mr Ó hOisín said there had been a bank in Dungiven since 1871, and that it had been "a central part of the village".
"It's been one of the anchor tenants in Dungiven and increased footfall here. We've lost quite a number of indigenous businesses, we didn't expect that something there for so long would up sticks and leave," he said.
'Badly missed'
Mr Ó hOisín said although there is an Ulster Bank branch in the town, Danske Bank customers would now have to travel to Limavady, which could affect elderly customers.
"Particularly for elderly people their nearest branches will now be Limavady or Magherafelt and they might find it difficult to travel that distance," he said.
"It is possible some of them might change to Ulster Bank, but it's disappointing that the bank is moving. Even the ATM is going, that will be badly missed on the street.
"It is certainly not the main street I grew up in many years ago, it is a shell of its former self and when you lose anchor tenants like Danske Bank, it puts a dampener on people."
'Convenient'
Tony Wilcox, Danske Bank's managing director of retail and private banking, said the company realised the announcement might disappoint some customers, but that "Danske Bank remained committed to continuing to meet their banking needs".
He added: "I have written to all of our Dungiven and Maghera branch customers to assure them of this commitment.
"Customers now visit branches less frequently and many are using other convenient ways to bank. To keep pace with these changes, we continue to increase our investment in alternative channels such as telephone, online and mobile banking."
Mr Ó hOisín said he would try to arrange a further meeting with representatives from the bank to look at the possibility of retaining some of its services in Dungiven.