Limavady robber, 20, wearing bin bag 'waited in queue'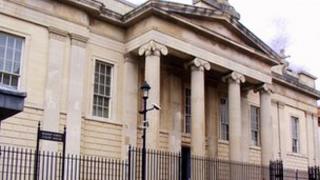 A 20-year-old man who tried to rob a supermarket wearing a black bin bag over his head waited in a queue before demanding money, a court has heard.
Kevin Clarence, from Rathbrady Road in Limavady, County Londonderry, was charged with attempted robbery on 10 August.
He was remanded in custody at Derry Magistrates' Court on Thursday.
A defence solicitor for Mr Clarence said there was identification and circumstantial evidence against him.
Curfew
The court heard that a man wearing a black bin bag over his head had queued up and demanded money from a shop assistant in the supermarket. Another member of staff then approached the man who said: "I'll be back", before leaving the shop.
A police officer told the court that Mr Clarence had only been released from prison in June for a similar offence and was still on licence.
The officer also said Mr Clarence had breached his licence conditions by drinking alcohol and was in breach of his curfew.
The court was told that two women had identified Mr Clarence, claiming he also approached them asking for money. They also said there was mud on the back of the man's clothes.
The officer also said a search of Mr Clarence's home revealed a top with mud on the back, matching that recorded by the shop's CCTV cameras.
During a police interview, Mr Clarence claimed one of the women was his ex-girlfriend.
A defence solicitor said one of the women who identified Mr Clarence had a "personal grudge" against him. He added that following his release from prison, Mr Clarence was anxious to rebuild his life.
The judge said there was a "clear risk of reoffending and a clear risk of interference with witnesses" and remanded Mr Clarence in custody.
He is expected to appear in court again in September.