Dungiven teenager, 18, banned from driving after speeding at 110mph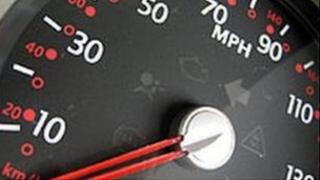 An 18-year-old teenager has been banned from driving for four months after being caught speeding at 110mph, five months after passing his driving test.
Martin Mulheron, from Dernaflaw Cottages in Dungiven, County Londonderry, appeared at Limavady Magistrates' Court on Wednesday.
In June, he was detected driving at 110mph in a 60mph zone on the Glenshane Pass towards Dungiven.
A defence solicitor said he had not realised how fast he was travelling.
The court heard there were two other people in the car with him at the time. The teenager also had R plates and should not have been driving at more than 45mph.
District judge Liam McNally told the court Mr Mulheron had been driving at an "appalling speed".
He was banned from driving for four months and fined £350.