Donegal Pet Rescue: Shelter closes over re-homing backlog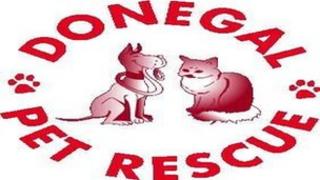 A County Donegal pet rescue shelter has said it is to close temporarily because of a large backlog in re-homing some animals.
Donegal Pet Rescue announced on its Facebook page on Wednesday that it is dealing with a large influx of dogs to the shelter.
It said its seven foster homes were currently "full to capacity".
The shelter added it "needs time to get the dogs in its care re-homed first" to free up foster space for more dogs.
Donegal Pet Rescue was formed in 2000 and is run on a voluntary basis. It takes in unwanted, abandoned and neglected dogs and cats.
Speaking on BBC Radio Foyle on Wednesday, Ryan McCauley from the shelter said that due to the volume of cases they had received, temporary closure was the only feasible choice.
"We have no paid staff whatsoever, we all do this on a voluntary basis and until we get working through this waiting list, we just have to say we can't take any more at the minute," he said.
He added that the shelter is trying to care for 56 dogs in total.
"We have 22 dogs in our care, so that's about three dogs per foster home. We have 38 dogs on our waiting list and a further six dogs to go onto that waiting list still to come in," he said.
'Lifetime commitment'
Mr McCauley said new European Union regulations regarding the rabies vaccine and passports for dogs were the main reasons for the backlog.
He said: "In the past, Donegal Pet Rescue had a close affiliation with charities in the UK and we would have sent dogs we couldn't take over to England.
"But new EU law has come into place this year - special requirements such as EU passports for dogs, rabies vaccines and we have to hold onto the dog for an extra 21 days."
He added that the charity is now worried that because of the temporary closure, dogs could now end up abandoned on the streets.
"The big fear the charity has is that we're anticipating an influx in abandonment of dogs," he said.
"It's very hard for us because we won't have the space to take them in, and we just don't know where they're going to end up.
"My opinion would be, give a dog a chance. Work out why you want it before you get it - a dog is a lifetime commitment."