Derry virologist Christopher Logue joins Ebola fight in Guinea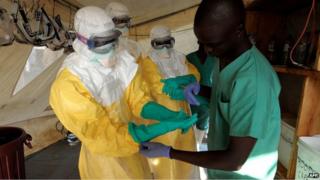 A doctor from County Londonderry is to travel to Guinea to help with the Ebola outbreak.
Dr Christopher Logue is a virologist who has worked at the US Centers for Disease Control and Prevention (CDC).
He will lead tests at a laboratory in Guinea to check if patients presenting with symptoms have contracted the virus.
More than 1,000 people have died in West Africa since the outbreak was first reported in February.
Dr Logue, who grew up in the village of Park, near Claudy in Derry, is a senior virologist in the Novel and Dangerous Pathogens training group at Public Health England (PHE), Porton Down, in Salisbury.
The laboratory is a World Health Organisation (WHO) reference centre for haemorrhagic fevers.
Rapid diagnosis
On Sunday, Dr Logue will travel to the outbreak for one month as part of a team that will use rapid diagnosis tests on patients, which can identify the presence of the Ebola virus in blood samples within a few hours.
Speaking on BBC Radio Ulster's Talkback programme on Wednesday, Dr Logue said he was not nervous about heading to Guinea.
"I'm not so much worried, because we've worked with Ebola for over 30 years and any time there's a suspect case coming into the UK it would be sent to us to test," he said.
"With respect to being on the ground, it is slightly worrying but now we're quite far into the outbreak.
"Local teams have done a great job of informing local communities, and community leaders are going out to rural areas and informing people about the disease so they can be treated and looked after. It's a bit more stable now, which helps alleviate any fears we might have had."
'Experience'
Guinea has closed its borders in order to stop visitors from entering the country, but so far there have been 506 cases and 373 deaths caused by the virus in the country.
Dr Logue said the difficulty in dealing with Ebola is that "unlike other (viruses), it has an ability to replicate in the body very fast, prior to being detected by our immune system".
He said: "What we're finding in patients that do survive, is that they have built up a pretty good immune response to it.
"I think early on in the infection, a lot of the front line medical team were local clinics and hospitals and they didn't have a huge amount of experience in dealing with it.
"Also, when you think about the sheer number of people that these doctors have to deal with, even with the best protection in the world, accidents can happen."