Former Coleraine DUP mayor James McClure dies, aged 88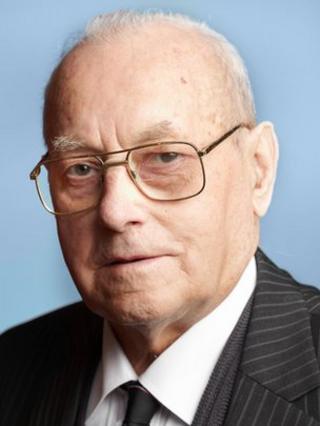 A former DUP mayor of Coleraine Borough Council James McClure has died at the age of 88.
Mr McClure joined politics in the 1960s and was elected to Coleraine Borough Council in 1977.
He was the mayor of Coleraine three times and deputy mayor 11 times. He was also chairman of the DUP and party president.
He was awarded an MBE in 2005 for services to local government.
The current DUP mayor of Coleraine, George Duddy, said: "The family are very much in our thoughts and prayers at this very sad time.
'Gentleman'
"Social media was awash with tributes last night for James who was a tower in local politics for many years.
"He will be sadly missed not only by his family but by local people and the DUP."
Party colleague Mark Fielding said: "He was an institution in Coleraine.
"He was a longstanding friend of Dr Ian Paisley's and this news is such a shock.
"I saw him on Monday on hospital and age just wasn't his friend any more.
"He lived for Coleraine Borough Council and the surrounding areas.
"He was very much in to playing bowls and was a gentleman.
"This is an end of an era for politics in Coleraine."