Gun attack on police in Londonderry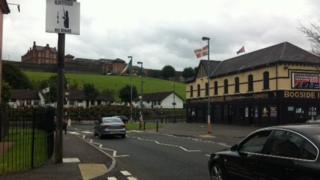 Police have blamed dissident Irish republicans for a gun attack on one of their patrols in Derry.
The patrol was driving along Westland Street in the Bogside in the early hours of Tuesday.
A gunman opened fire and hit the car twice.
The police say it is fortunate members of the patrol or civilians were not hurt or killed. Superintendent Garry Eaton described the attack as "totally reckless".
"It is fortunate that we are not speaking about deaths or injuries today," he said.
"Members of the crew were kept safe by protective equipment on the vehicle, however if the shots had missed, then anyone walking or standing on the street could have been hit."
"Those who organised and carried out the attack were totally reckless and showed total disregard for the lives of people in that community," he said.
"Despite this incident we remain committed to providing the people of Derry with the type of positive and dedicated policing that they ask and expect of us," he added.
SDLP Foyle MLA Colum Eastwood has condemned those behind the attack and described their actions as "shocking".
"The people who carried out this attack have no regard for their community, or for the future we are trying to build," he said.
"These people need to hear the message loud and clear that their actions are not wanted in our community and they will never achieve the aims they say they want to achieve by violent means." he added.
Sinn Féin assembly member Raymond McCartney said the attack had put the lives of many people at risk.
"Thankfully no one was injured in this incident but we could have been faced with a tragedy," he said
"Those behind this attack have nothing to offer society and are not representative of the people of Derry."
Detectives are appealing for information.