Irish soldier from Londonderry jailed for explosives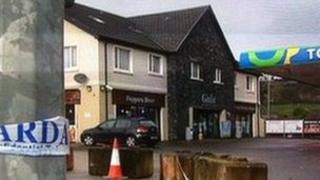 An Irish army soldier from Derry has been jailed in the Republic of Ireland for three years for having explosives and ammunition.
Private Mark Cassidy, 29, admitted having a pipebomb and 87 rounds of ammunition when he appeared at Letterkenny Circuit Court on Wednesday.
They were found when police raided his apartment in Burnfoot, County Donegal, in February.
The court heard that police received a tip-off to say there were explosive substances at a flat above a petrol station in Burnfoot.
A black bag containing a viable pipebomb was later found in the flat occupied by Cassidy. A further search discovered two sets of overalls, balaclavas, gloves and a large quantity of assorted shotgun cartridges in the attic.
Police said they have no information about what the explosives were going to be used for.
Malaria
Cassidy's barrister said the soldier's personality had changed after he was given an anti-malaria drug before serving in the African country of Chad in 2010.
He said Cassidy was also affected by the suicide of his brother and his mother's death. But the judge said there was no evidence to link any medication to Cassidy's actions.
He added that it was a very serious incident especially because the explosives were found in an apartment above a busy supermarket and petrol station.
"The reasons as to why they were stored are not explained but it seems to me that while he has no previous convictions, it is a serious matter," he said.
He sentenced Cassidy to three years on each charge and ordered them to run concurrently.