Funeral for Donegal diving victim Rev Dr Stewart Jones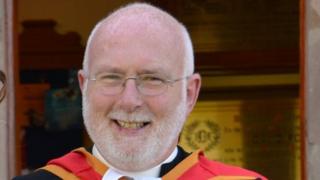 Tributes have been paid at the funeral of Rev Dr Stewart Jones, who died after a diving accident off the coast of County Donegal.
Dr Jones, who was 56, was diving with a friend from Londonderry near Saint John's Point when he got into difficulty on Saturday.
A memorial service was held at 14:00 BST on Wednesday at Donemana Presbyterian Church, where Dr Jones was a minister.
Speaking at the service Rev Robert Buick, Clerk of the Derry and Donegal Presbytery, said the reasons for his death may never be known.
"Why the events of Saturday 12 July at St John's Point in Donegal, on a fun dive, at a dive site he knew well, resulted in Stewart's tragic death, we may never fully understand". Mr Buick described Dr Jones as "a big guy, not just physically, but mentally and spiritually".
The service was led by the moderator of the Derry and Donegal Presbytery, Rev John Hanna.
Dr Jones, from Bessbrook, County Armagh, was married and had three children.