Hundreds take part in City of Derry triathlon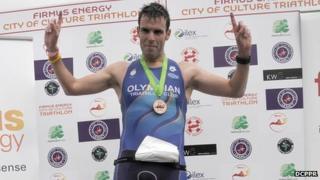 Hundreds of people have taken part in this year's City of Derry triathlon in Londonderry.
Belfast athlete Neville O'Neill took victory in the men's race in one hour, three minutes and seven seconds.
Maeve Maher-McWilliams won the women's race in 1:14:13.
Over 450 athletes from across the UK and Ireland competed in the event, which consisted of a 750 metre open water swim, a 20 kilometre cycle and a five kilometre run through the city.
This year was only the second time that the event has been held.
Last year's triathlon was one of the highlights of the City of Culture sports programme, and the race director Paul McGilloway said he was "delighted" with the support shown for it again this year.
"We had a great turnout of participants and enthusiasts who crowded the streets to cheer on our competitors," he said.
"I would like to congratulate everyone who took part in this year's gruelling challenge. So much training and work goes into preparations for race day that crossing the finish line is an achievement in itself, regardless of the time it takes."