Derry bookmakers fire 'deliberate', says fire service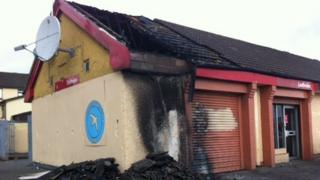 The Northern Ireland Fire and Rescue Service (NIFRS) has said a fire at a bookmakers in Derry was started deliberately in the early hours of Wednesday morning.
The fire broke out in the roof of Ladbrokes in Central Drive, Creggan, after 04:00 BST.
Three fire appliances were used and a section of the roof has been removed.
NIFRS commander Kevin Lynch said: "This all started because of a small fire that was started deliberately."
"There were large volumes of smoke in the area coming from the roof," said Mr Lynch.
"We made our way through the roof and extinguished it after a few hours.
"Structural damage has been caused to the roof.
"All of these operations are dangerous and have the potential for injury which is why we bring in such big appliances.
"We believe youths started a smaller fire which then led to a much bigger fire.
"This business will now be closed for quite a few days.
"Whether people mean to light fires or not they need to realise that they can get out of control."