Kevin Doherty, 23, jailed for having drugs in Magilligan Prison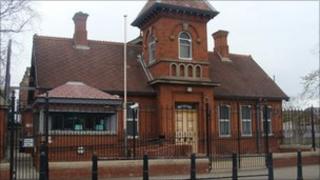 A man has been jailed at Limavady Magistrates' Court after he was caught with drugs in Magilligan Prison.
Kevin Doherty, 23, of no fixed abode, is currently serving a prison sentence after he admitted possessing the drugs on 21 May.
An extra two months has been added to his current sentence, which ends on a date in 2014.
The court was told that prison officers went to Doherty's cell to conduct a search.
They noticed he was trying to conceal something in his boxer shorts and took steps to restrain him.
One officer grabbed Doherty's arm and prised open his hand and found a parcel inside containing 100 blue tablets and white powder.
When he was interviewed by police Doherty admitted the tablets were Diazepam and the powder was cocaine.
He told police that the drugs were for his own use.
A defence solicitor told the court that no money had changed hands and Doherty had been offered the drugs and accepted them "on the spur of the moment".
He said Doherty had been feeling "down due to personal circumstances" and said that his client's life had "never been easy".
He appealed to the judge not to impose a consecutive sentence to the one Doherty is already serving.