£11m extension granted for University of Ulster Magee campus in Derry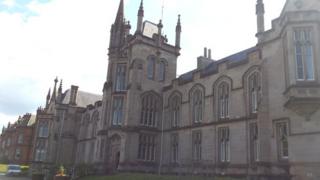 Planning permission has been granted for an £11m extension to the University of Ulster's Magee campus in Londonderry.
The extension will cover a floor space of almost 4,000 sq meters.
The building will have teaching facilities, a large lecture theatre, 20 classrooms and a cafe.
Environment Minister Mark H Durkan said "this will contribute positively to the local economy".
"This strategically important investment by the University of Ulster on the Magee Campus will be a boost," he said.
"It will create construction jobs in the short-term and enhance the academic offering in the long-term.
'Positive impact'
"This application was turned around in just over three months which demonstrates that changes to planning are ensuring a fast, fair and fit for purpose system.
"Along with many others in the north west, I strongly support the expansion of the university.
"This extension will help to consolidate existing provision and provide a spring board for further development."
A University of Ulster spokesperson said: "The University of Ulster welcomes the planning approval for the £11m Magee campus teaching block granted by the environment minister and Derry City Council.
"This decision means that we are now one step closer to a new teaching facility for our students in Derry, which will provide a modern learning environment and will also have a positive impact on the city as a whole.
"We have been working closely with all of our stakeholders to ensure that our application reflects the needs of our staff and students, and demonstrates our contribution to the wider regeneration of the city."