Sean Conway jailed for six years for Magherafelt stabbing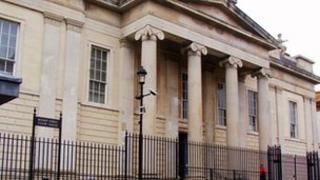 A man from County Londonderry, who stabbed a man five times with two kitchen knives, has been jailed for six years at Londonderry Crown Court.
Sean Conway, 24, from The Brambles in Magherafelt, admitted wounding with intent and possessing two offensive weapons when he attacked the man outside a nightclub on 20 April 2013.
The incident happened at Rainey Street in the early hours of the morning.
Conway will serve three years without remission and three years on licence.
Corie Mawhinney, who was 17 at the time, was stabbed five times, twice to the right side of his chest, twice to his right arm and once below his left shoulder.
He sustained lacerations to his liver and nerve damage to his right arm and he still attends hospital where he is treated for recurrent chest infections.
'Innocent young man'
Judge Philip Babington said it seemed there had been an earlier altercation involving Conway that night, but it did not involve Mr Mawhinney who he said "is a totally innocent victim in this case and further was unknown to the defendant".
As he carried out the attack on his victim, Conway shouted: "I'm going to kill him" and added "that happens if you mess with me."
Judge Babington said that Conway "has recently experienced mental health issues and has been diagnosed with emotionally unstable personality habits and poly-substance abuse".
He said prior to the attack Conway had consumed large amounts of vodka, wine and shots.
He then went home, got two kitchen knives and returned to the town centre and stabbed Mr Mawhinney.
At the time, Conway mixed the alcohol with his prescribed medication which included four different drugs, two anti-depressants, an anti-psychotic drug and a drug for anxiety.
Judge Babington said: "At first blush, full credit does not appear to be available, but there is no doubt that this defendant was very drunk.
"Indeed he was incapable of being interviewed for some 21 hours and there seems to be a medical acceptance that he may not have been capable of remembering what occurred.
"Mr Mawhinney had his back turned to Conway when the attack took place.
"It is difficult to imagine a worse scenario than occurred in this case. A completely innocent young man out for the night with his girlfriend is stabbed for absolutely no reason other than being in the wrong place at the wrong time.
"He was stabbed five times and although largely recovered, has been left with lasting injuries which may or may not be permanent."