Derry teenager 'could have been killed' in sectarian attack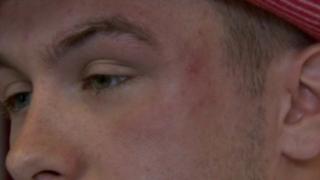 The parents of a Catholic teenager injured in a sectarian attack in Londonderry have said that their son could have been killed.
Lorny Roberts was chatting to his ex-girlfriend when he was targeted by a gang of up to a dozen young men in the early hours of Sunday morning.
The 18-year-old suffered head injuries and had his hand broken during the assault at the Fountain estate.
Police have said it was a sectarian hate crime.
'Traumatised'
His father Andrew said that if he had not arrived at the scene his son could have been killed.
"I could see this bloke standing with a breeze bock above his head about to crush his skull. They were going to kill him," he said.
"He is a youth leader and I don't get it."
Lorny, who is a trainee butcher in the Creggan estate, said he had been left deeply traumatised by what happened.
"They were kicking me left, right and centre," he said.
"I am a cross-community leader and now I don't know whether to keep doing it or not.
"I thought I was dead and it is a horrible thing to happen."
Police have appealed for anyone with information to contact them.