Police treating attack on Derry man in Fountain estate as sectarian hate crime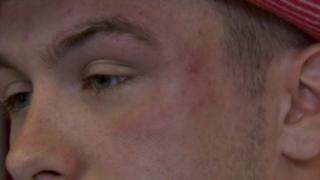 Police in Londonderry have said they are treating an attack on an 18-year-old man near the loyalist Fountain estate at the weekend as a sectarian hate crime.
The Catholic teenager was chatting to his former girlfriend, a Protestant, when he was set upon by up to 12 attackers.
It happened in the early hours of Sunday morning.
He said he may now give up the cross-community work he did in the city.
Lorny Roberts, who is a trainee butcher in the Creggan estate, said he had been left deeply traumatised after what his family described as a "vicious attack".
He said he had gone into the Fountain estate with an ex-girlfriend when the attack happened.
After the attack, Mr Roberts called friends for help and they in turn contacted his father.
Mr Roberts suffered two broken bones in his hand and bruising to his head and body.
His family have said they are concerned because he has to return to hospital for another CT scan on a blood clot on the back of his head.
Police have appealed for anyone with information to contact them.