David Gerard McCloskey jailed for Derry hit and run in Creggan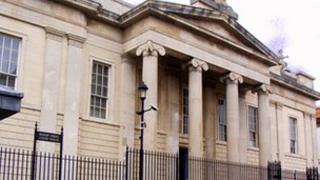 An uninsured and unlicensed motorcyclist, who drove off after knocking down a seven-year-old girl, has been jailed for nine months.
The girl sustained multiple injuries and was left unconscious on the road in Creggan, Londonderry, on 12 June 2013.
David Gerard McCloskey, 24, from East Avenue in the Waterside, was also disqualified from driving for three years.
McCloskey pleaded guilty to five charges.
The motorcycle he was riding struck the girl as she was crossing the road.
Fractured skull
She was flipped in the air by the impact and thrown a short distance along the road.
McCloskey and his passenger both came off the motorbike.
The passenger remained at the scene and spoke to members of the public but McCloskey drove off.
He was later identified by his passenger.
The girl was rushed to Altnagelvin Hospital and was later transferred to the Royal Belfast Hospital for Sick Children.
She sustained multiple injuries including a fracture to her skull, a rupture and laceration to her spleen and a suspected laceration of her kidney.
She also sustained fractures to her jaw and finger, together with lung and cerebral contusions.
The child still has a steel plate in her jaw.
McCloskey was arrested by the police and initially denied any involvement but later made admissions.
He told the police he drove off from the scene of the collision because he "panicked".
"Miracle child"
He also said he tried to set fire to the motorcycle.
The court was told that McCloskey wanted to apologise to the girl and her family.
Judge Babington said McCloskey's behaviour after the accident was "inexcusable as he left the girl lying on the road in an unconscious state".
Tracey McGuinness, the girl's mother, said her daughter made her First Communion on the first anniversary of the collision.
She described the girl as a "miracle child" who made a great recovery.
Ms McGuinness said: "The days after the accident were a nightmare because no one knew if she would survive her injuries."
She added that she hoped McCloskey's sentencing would make young motorcyclists "more aware of the dangers of driving at speed through housing estates".