Derry man faces community service after stealing circus underwear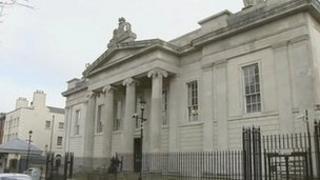 A man from Londonderry has been ordered to complete 50 hours community service after he stole a bra and underwear from a circus changing room in April.
Seamus James Gerald Bonner, 32, admitted committing the offence on 11 April.
He was seen leaving the area when staff stopped him and found a strapless bra and leggings hidden inside his jacket hood.
Bonner, from Ivy Terrace in Derry, has been put on probation for 12 months
He has also since lost his job as a lorry driver.
'Embarrassment'
A prosecution solicitor told district judge Peter King that on 11 April police attended the circus at Ebrington Square following a report that a man had been discovered in a women's changing area.
He was arrested and made full admissions.
A defence barrister said: "Aside from the seriousness of the offence, Bonner has suffered a great deal of shame and embarrassment as a result of the publicity given to his case.
"Bonner, in the heat of the moment, took advantage of a situation and made a stupid error in judgement."
The district judge said he noted that Bonner had been given a formal caution for a relevant offence in May 2006.
He said he took into consideration Bonner's early plea as well as the contents of a letter from the Men's Action Network.
He said he was imposing the 50 hour community service to mark the "seriousness of the offence" and warned Bonner that if he re-offended in a similar way, jail would be an option.