Londonderry Bands Forum provides workshops on parading for pupils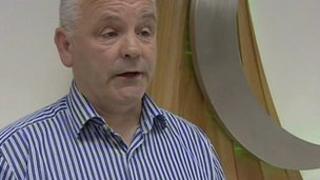 A new project by the Londonderry Bands Forum has set out to break down young people's preconceptions of marching bands and parading in Northern Ireland.
A number of workshops have been set up for all schoolchildren across Derry but it has mostly been Catholic schools taking up the offer.
The project is the first of its kind in Northern Ireland.
Derek Moore, coordinator of the Londonderry Bands Forum, said "young people do equate bands with violence".
He added: "I have a full-time post through the international fund for Ireland and it gives me a chance to sit down and speak to people and be active in the community.
"It's not targeted at Catholic schools but 95% of schools wanting to hear about the project have been Catholic schools.
"We feel that a lot of Protestant schools could probably be doing with the same level of interest because young people do have a perceived idea about bands and parading.
"The more we communicate with young Catholics and Protestants it will help."
The students get to play flutes, drums and learn about band culture.
Jack McAuley, principal of St Patrick's And St. Brigid's College in Claudy, said: "I think it's very, very important and I really welcome the forum into the school.
"Bands are often shown in a very poor light when in actual fact a lot of good work is done too.
"What pupils see on television is one form of culture but real culture is when people are actively engaged."