'Positive' Derry graffiti for Clipper Round the World Yacht Race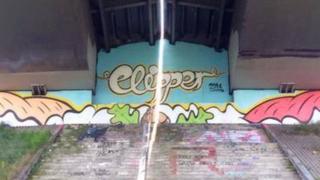 Graffiti artists in Londonderry have been spraying walls along the banks of the River Foyle to welcome the Clipper Round the World Yacht Race.
Urban Vizualz has been commissioned by Derry City Council to spray maritime-themed murals along the river ahead of the nine-day Festival.
Derry is the penultimate stopover on the world's longest ocean race.
Organisers have said that some of the yachts, which left London in September, should arrive on Monday.
They were expected to arrive on Saturday but the race has been delayed due to poor weather conditions in the Atlantic Ocean.
Community
The maritime festival will feature a race village, a summer promenade and sea-faring activities.
Around 50 volunteers have been transforming Prehen Boathouse, a section underneath Foyle Bridge, and a hoarding at Queen's Quay.
Urban Vizualz work with youth clubs and playgroups in Derry to encourage "positive graffiti".
Karl Porter, who works with teenagers at the company, said: "There is an artistic creative side to graffiti which we are trying to encourage.
"We have been spraying contemporary murals to spruce up the community.
"Around 50 young graffiti artists have been out and it's refreshing to see how they're able to take ownership of their area.
"They have been learning new techniques and learning how to appreciate what they are doing as art.
"Hopefully those on the yachts will love it."