Memorial tribute to Orangemen killed during the Troubles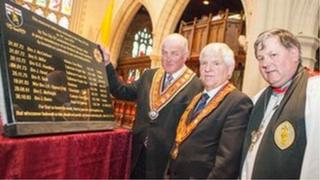 A memorial has been unveiled in Londonderry in memory of eight Orangemen killed during the Troubles.
The tribute remembers men from the city and surrounding districts who lost their lives in atrocities.
The memorial tablet was formally dedicated at a service of remembrance at St Columb's Cathedral on Sunday afternoon.
It will eventually go on permanent display at the Apprentice Boys Memorial Hall.
Joining relatives of the deceased at the religious service were senior members of the order.
'Emotional'
The Grand Master of the Grand Orange Lodge of Ireland, Edward Stevenson, led the tributes during the service.
He said: "We must never forget the Orange Order suffered the largest institutional loss for a civilian organisation during the Troubles.
"Whether it be the crimes of Claudy and Greysteel, there can be no justification whatsoever."
The black marble table is inscribed in gold letters with the names of the eight men who were killed during the Troubles.
Among them is George Hamilton, a 28-year-old electrician who was shot by an IRA gunman in 1972.
He was the brother-in-law of Ulster Unionist councillor Mary Hamiliton.
"It has been 40 years but it is still very raw. It has been a very emotional day," she said.
The service of remembrance and thanksgiving, officiated by Very Rev Dean William Morton, was both preceded and followed by an Orange parade.
In April 2011, a memorial stone was dedicated at the Ulster Hall, Belfast, to remember all 332 members of the Orange Order who lost their lives in the Troubles.