Eddie Kerr trial hears SEEDS charity director police interview tapes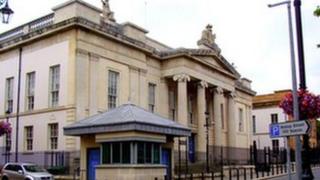 The trial of a former director of the Londonderry charity organisation SEEDS has heard the contents of a tape-recorded interview between him and the police.
The charity offered training courses and staged events to help immigrants integrate into the local community.
Eddie Kerr, 60, of Ashfield Terrace, faces 15 charges of fraud, forgery and of falsifying another man's signature.
He denies committing the offences between February 2009 and March 2011.
Mr Kerr denies using another man's signature to make funding applications to the OFMDM, Derry City Council and the North West Peace Cluster.
The prosecution case is that he made multiple duplicated applications to the three organisations to fund his £30,000 a year salary and to pay for rent reimbursements.
'Dispute'
On the third day of the trial, the investigating officer in the case, Detective Alan Adair, said on 8 March 2012, Mr Kerr attended Strand Road police station voluntarily together with his solicitor.
He was informed by the detective that the Office of the First and Deputy First Minister had made a formal complaint against him, alleging forgeries and fraud.
In the taped interview, the officer put it to him that he had failed to declare to OFMDM that he had already received funding.
Mr Kerr replied that this was due to "administrative or maladministrative issues", and he denied claiming for a double salary.
"I can show where every penny went," Mr Kerr told the officer.
"In the community sector, we are juggling all the time, in terms of funding."
Mr Kerr said he used the extra funding to fund one and a half posts in SEEDS, telling him: "You are robbing Peter to pay Paul all the time. I used the money to employ other people, not to give me another salary."
Later in the interview he said: "If I am being accused of anything, it is of re-profiling money because that is what I have done."
When the officer put it to him that he had effectively stolen the money, Mr Kerr replied: "That's what it sounds like but that is not the way it was."
Mr Kerr said at the time of the alleged offences, he had dealt with up to 50,000 people and worked between 60 and 70 hours a week.
"I know what I have done is probably wrong but it was done for the best of reasons," said Mr Kerr.
"I categorically dispute it was for a double salary.
"I am not going back on what I did but I think there are other priorities other than double-funding Eddie Kerr's salary."
The trial continues.