Everglades firebomb: Owner 'glad' PSNI event goes ahead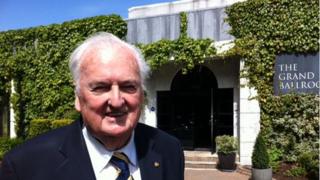 The owner of a hotel that was firebombed a week ago has said his business is "open to everyone".
Sir William Hastings was speaking as a PSNI recruitment event went ahead inside the Everglades hotel in Londonderry.
About 12 people have, so far, turned up to hear about careers in policing.
A masked man threw an explosive device into the reception area of the Everglades Hotel on 29 May. He claimed he was from the IRA.
It exploded when experts were working to make it safe. Extensive damage was caused to the reception area.
Sir William said the hotel was open to political parties and charities among others.
He said he was "glad" that the PSNI event had gone ahead.
Earlier this week, senior police officer said they consulted with the hotel about going ahead with the event.
"Certainly we did consider cancelling the event," said Ch Supt Stephen Cargin.
"We would never want to impose anything on the hotel owners and staff.
"Those who are responsible for the device need to wake up and come out of the shadows and start having a look around them. People want to see a future and move forward."
He said the the people of Derry "stand shoulder to shoulder with policing".
"I challenge the group behind this," Mr Cargin said. "They are a voice from the past. All they have to offer is destruction. People have had enough.
"Those responsible were happy to destroy innocent lives."