Potato peeler court: Derry man charged with car hijacking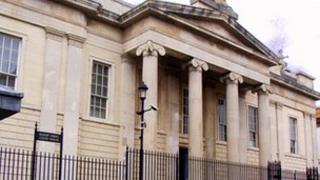 A 21-year-old man has appeared at Londonderry Magistrates' Court charged with using a potato peeler to hijack a car.
Derek Creswell from Strand Road, Derry, has been charged with hijacking a car, causing grievous bodily harm with intent and with possessing the potato peeler.
The incident allegedly happened at Bonds Hill, in the Waterside area of the city on 23 December 2013.
He is due in court again on 26 June.
A defence solicitor said the defendant was a sentenced prisoner who was currently out on parole. He was released on his own bail of £500.
As part of his bail conditions, he must reside at his home address. He has been ordered not to enter the Bonds Hill area and not to contact the car owner.