Eglinton Timber Products fined £9,500 after man loses hand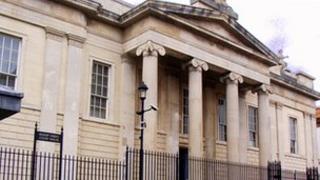 A Londonderry timber company has been fined £9,500 after it admitted being at fault for an industrial accident in which a man lost his left hand.
Eglinton Timber Products, based in Eglinton, pleaded guilty to a breach of health and safety regulations on 25 July 2013.
The 22-year-old had his left hand completely severed, which resulted in him having the lower part of his left arm surgically removed.
He now wears a prosthetic left hand.
Judge Philip Babington told Londonderry Crown Court that the victim, a maintenance fitter, was ordered to realign and service a multi-layered industrial saw and to remove four nuts and grease the saw while the machine was still running.
He said the company, which now has a workforce of 65, manufactured wooden pallets at its factory.
'Completely severed'
Judge Babington said: "Although the victim was inducted by a company health and safety officer, he was never shown any risk assessment documents. Nor had he ever worked on the multi-layered saw machine before.
"When the employee was carrying out his instructions, his left arm became trapped in the machine and his left hand was completely severed."
The court was told that the employee ran into the office and was then rushed to Altnagelvin Hospital where he was treated for five days.
The court also heard that the health and safety inspectorate had visited the factory 11 months before the incident and highlighted concerns about the same machine in a letter to the company.
Judge Babington said no lockdown procedure was in place and he said the victim's health and safety instructions were less than satisfactory.
"The accident has had a detrimental impact on the victim's work career and on his involvement in sport," the judge added.
"He also has had to receive counselling.
"The situation is that this was an accident just waiting to happen and sadly it did.
Apology
"Not to have had a lockdown during maintenance work was completely unacceptable."
Judge Babington said he took into consideration that the company's directors had apologised to the victim and held him in such regard they would welcome him back to the company.
He said he also took into consideration that since the accident, the company has spent £122,000 on improving and updating its safety procedures.
He said he noted that as a direct result of the tragedy, the company's insurance premium had increased by £60,000.
Kevin Campbell, an inspector within HSENI's major investigation team said: "All companies must identify and address hazards within the workplace.
"Where maintenance is to take place, appropriate measures should be taken to prevent access to dangerous moving parts of machines.
"Companies must also ensure that all new staff are properly trained, and supervised, particularly when it comes to working with potentially dangerous machinery."