SDLP's Brenda Stevenson is the new mayor of Derry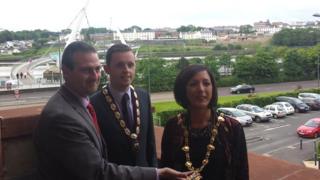 SDLP councillor Brenda Stevenson has become the new mayor of Londonderry.
The decision was ratified following an annual general meeting of Derry City Council on Monday night.
Mrs Stevenson, who is from Derry, replaces outgoing SDLP mayor Martin Reilly.
DUP councillor Gary Middleton has been elected deputy mayor. The appointments were made for the final year of Northern Ireland's 26-council model.
The 26 local authorities are set to give way to 11 new super-councils with expanded powers in 2015.
Mrs Stevenson said she was "delighted" that the SDLP put their faith in her.
"I will be the final mayor of Derry City Council as it stands now. I will take the next nine months to go out on a high.
"It will be an opportunity to showcase our city.
"It will be great to be remembered as the last mayor of Derry city council.
"One of the main priorities for me personally is to pledge our support for the PSNI following the awful incident at the Everglades Hotel."
The hotel lobby was badly damaged in a firebomb attack last Thursday.