Londonderry explosion: Emergency services praise hotel staff after bomb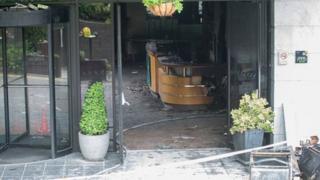 The Police Service of Northern Ireland and the Fire and Rescue Service have said staff at a Londonderry hotel saved many lives by evacuating the building before a firebomb exploded.
A masked man left the device in the reception area of the Everglades Hotel on Thursday night. He claimed he was from the IRA.
The device exploded when Army bomb experts were working to make it safe.
No-one was injured in the explosion but the reception was extensively damaged.
The hotel is expected to reopen on Saturday.
Sir William Hastings, chairman of the Hastings group, which owns the hotel, said he visited staff on Friday morning.
'Superb'
"The staff were superb and they did what they had to do.
"There was a lot of shock but things will be back to normal as soon as possible. The damage is confined to the reception area.
"Our biggest problem will be getting our telephone and computer systems back to normal.
"The staff love their job and would've been concerned for the residents. They acted in a very positive manner.
"I was say we were targeted because we are a soft target. We are outside the city centre.
"The city of Derry is the biggest loser. The city is tarnished in terms of tourism and business."
City of Culture
Trevor Ferguson, the western area commander with the NI Fire and Rescue Service, said: "The firefighters were faced with a very rapid and intense fire.
"We could be looking at death here today. The staff evacuated the building brilliantly. I praise them.
"This was a very serious fire that could've spread very quickly. These were traumatic circumstances."
Gary Donnelly, a newly elected Independent councillor who is a member of the 32 County Sovereignty Committee, told the BBC he does not condemn the attack.
"I won't justify it nor will I condemn it and call the people traitors."
Justice Minister David Ford said: "This attack comes on the back of a positive year with Derry showing the world what it has to offer with the success of the City of Culture and the all-Ireland fleadh.
"This is a reckless attack and those responsible have shown a total disregard for life.
"Thankfully, primarily because of the swift action of the hotel staff, there have been no injuries.
"I know that the overwhelming majority of Derry people will be appalled by this attack, and we stand with them against those who want to stop their city moving forward."