Derry company admits safety breach after man's hand severed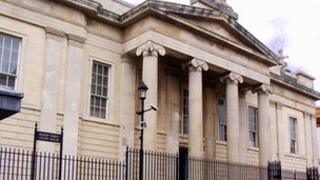 The managing director of a Londonderry timber company has pleaded guilty to a breach of health and safety regulations which left a man with his hand severed.
The 22-year-old man's arm got caught in a machine and his left hand was severed.
The company, Eglington Timber Products Ltd, is based at the Longfield Industrial Estate.
A hearing at Londonderry Crown Court as told that sentencing is expected next month.
A prosecution barrister told Judge Phillip Babbington that on 25 July 2013, the employee was ordered to service a multi-layered sawing machine and to remove four nuts while the machine was still running.
The maintenance fitter, who had been with the company for seven weeks, and had been ordered to carry out the procedure after a fault developed in the machine's alignment.
His left arm got caught in the machine and his left hand was severed.
The court was told that the man ran into the office and was taken to Altnaglevin Hospital.
Due to the extent of his injuries, the lower part of his left arm had to be surgically removed and he now wears a prosthetic left hand.
The barrister said 11 months before the accident, the health and safety inspectorate wrote to the company regarding safety access to the same machine.
A defence barrister for Norman Blair, the company's managing director, said the accident "simply should not have happened".
He said Mr Blair expressed his sympathies for what happened and still had such regard for his injured employee.
The barrister said since the accident, the machine and another similar machine have been replaced at the cost of £60,000 and the company has spent £122,000 in updating its health and safety procedures.
The barrister said the company has a workforce of 65.
He said since the accident, the company's insurance premium had increased by £60,000.