Northern Ireland businessmen criticise Robinson Muslim comments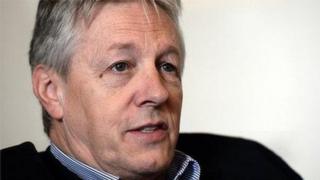 Two Northern Ireland businessmen have said First Minister Peter Robinson's comments on Muslims could be damaging to Northern Ireland companies.
Peter Robinson told the Irish News on Wednesday he would not trust Muslims involved in violence or devotees of Sharia law.
The DUP leader has since said he didn't want to "cause distress" to Muslims.
However, businessmen Phillip O'Doherty and Martin Symington have said the comments could have a negative impact.
Mr Robinson made his comments in defence of Belfast pastor James McConnell, who had described Islam as "heathen" and "satanic", and said he did not trust Muslims.
Mr O'Doherty, who employs hundreds of Muslims, described Mr Robinson's comments as "very dangerous".
Mr O'Doherty, from Londonderry, owns E&I Engineering near Dubai and has been invited by Invest Northern Ireland to go on a trade mission to the Middle East.
"I was quite shocked that he (Peter Robinson) got involved at all," Mr O'Doherty told BBC Radio Foyle.
"The comments are very poor and very dangerous.
"The bulk of our employees are mainly Muslims and we find them very trustworthy. They will hear about these comments and will be baffled.
"They will get the newspapers tomorrow and it's not good for them to see this in the news. I'm embarrassed at what is happening."
He said he was worried that the first minister's comments could "prevent some business being done" adding that the remarks were "totally uncalled for".
"Hopefully this will not damage business between Northern Ireland and Muslim countries too much," he said.
"He (Peter Robinson) should really withdraw the comments immediately and apologise."
'Ill-judged'
Mr Symington, whose Pure Roast Coffee Limited supplies coffee to a major Middle East airline in a contract worth £350,000 a year, said the first minister's comments about Muslims were "ill-judged".
He said were he to meet his Muslim business partners today he would feel the need to apologise to them.
"Both Mr Robinson and Pastor McConnell spoke about trust. I believe it's more about respect. I feel it's more important to respect people for who and what they are - particularly in business," he said.
"I find people I deal with in the Middle East to be honourable people and I've no difficulty in doing business with them, indeed I'd like to be doing more business with them," he said.
Mr Symington said Mr Robinson needed to show greater care when commenting publicly because he was "speaking for all of the people and speaking for the business community".
"When I go to do business in the Middle East the first thing I do is respect their culture. Indeed I've been in meetings that have broken up for prayer and I totally respect that," he said.
He said the comments showed a lack of respect.
"It saddens me as a citizen of Northern Ireland, it disappoints me as a businessman that you're here today asking me questions that should never have come up."
SDLP leader Alasdair McDonnell has also warned about the impact of Mr Robinson's comments on businesses.
"Does Peter Robinson not know that there's fairly significant Islamic investment in the Titanic Quarter in his own constituency (East Belfast)?" he said.
"Surely to God he should realise that he's cutting his nose off to spite his face."
'Attractive proposition'
However, Enterprise Minister Arlene Foster, of the DUP, said she thought business with Muslim countries would not be affected.
"Over recent years we have been working to build relationships with countries across the Middle East and this has involved many successful trade missions, government meetings and company visits," she said.
"As has been seen over recent months, the quality of our offering has resulted in many companies investing in Northern Ireland.
"This is the result of hard work and relationships that have been built up over a number of years through numerous trade missions.
"I am therefore confident that we will continue to develop trade links and remain an attractive proposition for both new and existing investors."