Former Irish soldier Barry Fitzgerald guilty of biting man's nose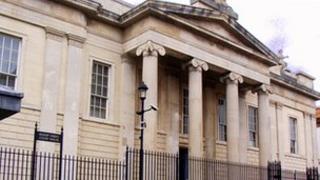 A former Irish army soldier has pleaded guilty at Londonderry Crown Court to biting a man's nose during an unprovoked assault in Derry last year.
Barry Fitzgerald, 25, from Doire House, Carrigans in County Donegal, admitted causing grievous bodily harm with intent to Ali Halimi.
The incident happened outside a fast food takeaway on 14 April 2013.
Fitzgerald, who resigned from the Irish army in May 2014, will be sentenced in June.
Fitzgerald, who has no previous convictions, spent five months in custody following his arrest for the offence.
Judge Brian Sherrard ordered the preparation of pre-sentence and victim impact reports prior to the sentencing date.
He released Fitzgerald on continuing bail saying that should not be taken as an indication of the sentence he would ultimately receive.
As part of his bail conditions Fitzgerald must not enter the 30mph zone of Derry except for police, medical and legal appointments.
Fitzgerald, who has already surrendered his passport, was also ordered not to leave Northern Ireland or the Republic of Ireland without the permission of the court.
Both defence and prosecution barristers told the judge that the attack was not racially motivated.
A defence barrister said Fitzgerald offered his heartfelt apologies to Mr Halimi and to his family and hoped his guilty plea would enable Mr Halimi to return to his normal way of life.