Londonderry man sentenced for biting officer on arm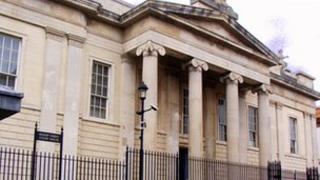 A Londonderry man described as "dangerous" has been sentenced on assault charges including biting a civilian detention officer on the arm.
Rodney Bonnes, 29, from Melrose Terrace, was arrested after he kicked, punched and dragged a woman by the hair.
The unprovoked attack happened in August 2012 in a pub in Derry, Londonderry Crown court has heard.
He also assaulted two police officers and resisted arrest outside the pub.
Bonnes, who had 71 previous convictions, 21 of them for assaults and three for threats to kill, admitted six charges linked to the assaults in the bar, outside on Shipquay street and in the police station.
Bonnes, without warning, grabbed the woman in the bar and head-butted her.
She fell to the floor and he continued to assault her by kicking her and punching her. He also dragged her about the floor by the hair.
Bonnes' girlfriend pulled him away but he returned to the victim who was lying helpless on the floor and kicked and punched her again.
The victim sustained a swollen nose and swollen cheeks and multiple bruises.
The police were called and outside the bar Bonnes spat on one of the officers and struck another on the lip.
The police had to use CS spray to restrain him.
The incidents inside and outside the bar were recorded on CCTV. He was warned about his behaviour In the custody suite at Strand Road police station.
As his handcuffs were being changed, he clamped his teeth into the civilian officer's forearm.
Blood was drawn and the officer had to have a tetanus immunisation and antibiotics.
Bonnes later sent text messages to his girlfriend who said she felt threatened by his behaviour.
Judge Philip Babbington said Bonnes told the author of a pre-entence report that he was "sick and disgusted" by his actions.
But Bonnes also said he believed that the girl in the bar had provoked him.
Judge Babbington said Bonnes has been assessed as posing a high likelihood of re-offending and a "significant risk" of "serious harm".
"It was an extremely cowardly assault on someone who you kicked and punched to a helpless state and then continued to assault," said Mr Babbington.
"Your behaviour towards the police was totally unacceptable and your unprovoked and very nasty assault by way of biting the civilian officer, was again totally unwarranted.
"The law does not allow me to make a finding that you are dangerous but it is clear to me as it is to your own medical adviser that you could still be capable of committing further offences."
Bonnes will serve two years in custody without remission and two years on licence after his prison release.