Man rammed car into security gates at police station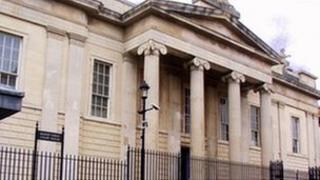 A 24-year-old Londonderry man who rammed a car into the security gates at Strand Road police station while drunk, has been told that his actions were "idiotic and deranged."
Ciaran McGeoghegan, from Belvoir Park, admitted deliberately crashing into the gates on 18 March after a four-day drinking binge.
He was just over twice the legal alcohol limit for driving at the time.
He was sentenced to three months in jail suspended for two years.
The court heard that when police officers rushed out of the station after the impact, McGeoghegan shouted at them: "What kept you. I did it on purpose. Were you having your tea?"
Mr King said McGeoghegan's actions were "madness" and he said McGeoghegan was lucky that his actions did not have more serious consequences for him.
He was also disqualified from driving for three years, fined £300 and order to pay £650 in compensation for the damaged gates.