Woman speaks of domestic abuse to raise awareness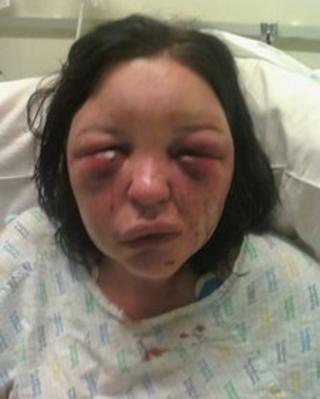 A woman who was subjected to physical and sexual assaults during a four-year relationship has spoken publicly to raise awareness of domestic abuse.
Terri-Louise waived her right to anonymity in the hope other victims of domestic violence will come forward.
Her former partner, Greg Logue, 34, appeared in court in Londonderry.
He admitted 14 charges that included, indecent assault and common assault. The court was told he bit her and punched her on the head and chest.
He is already in jail for previous offences committed against her.
He has now admitted eight counts of indecent assault and six of common assault from 2008 to 2011.
She told BBC Radio Foyle that he beat her so badly she was unrecognisable to her own family.
"My big brother came in first and the police told him that I had had a bottle of vodka smashed over my head," she said.
'Your fault'
"My eyes were completely closed over as he came in and I remember I couldn't see him.
"They only recognised me because of the tattoo on my neck.
"You can see from the photo it doesn't look anything like me. It is so scary that that is how I was left.
"You end up believing that it is your fault. I believed I had to protect him."