Three Londonderry men who had bomb in car are jailed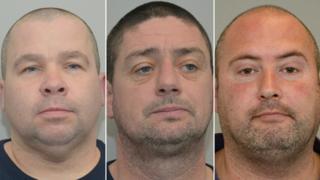 Three men who pleaded guilty to having a bomb in a car have each been sentenced to 10 years imprisonment.
Jason Lee Anna Ceulemans, 42, Damien Harkin, 48, and Neil Christopher Hegarty, 49, will serve five years in prison and the rest on licence.
"This was a particularly effective device designed to pierce armoured vehicles and kill or cause serious harm to the occupants," the judge said.
The three men also admitted having articles for use in acts of terrorism.
Ceulemans, Lecky Road, Harkin, Westland Avenue, and Hegarty, Sackville Street, all Londonderry, had each pleaded guilty to a charge of possessing the device to enable some other person to endanger life or cause serious injury to property.
Improvised
The prosecutor told Belfast Crown Court that the car with all three men on board was stopped in the Westway area of Creggan on 3 December, 2012.
The three were all wearing dark clothing, with Hegarty and Harkin both wearing a pair of woollen gloves over latex gloves. Hegarty was also in possession of a walkie talkie radio, which he later claimed belonged to one of his children.
When police searched the Renault Megane, they discovered a rucksack in the rear footwell that contained what they described as "a viable explosive fired projectile".
An Army technical officer was called to the scene and established there was a commercial detonator inserted into a quantity of high explosives. The rucksack also contained an improvised firing pack.
The prosecutor told the court: "This device is an anti-personnel weapon, designed to pierce armour plating. Had it been successfully fired at a police vehicle, it had the potential to kill or seriously injure any occupants of the target vehicle."
'Enabling'
A defence barrister representing Ceulemans, said his client's intention was never to kill or use the device, but that he "went with others to transport the device, having been asked".
A barrister representing Harkin, said his client's plea was on the basis of "enabling others to use the device", adding that while Harkin knew there was "some form of explosive" in the rucksack, the "exact nature of the device was not known to him".
Hegarty's barrister acknowledged that while his client had a conviction for membership of an illegal organisation, it dated back 25 years to a "wholly different era".
Following the sentencing, police released a statement.
A spokesperson from the PSNI's serious crime branch said: "We should all be thankful that those in possession of these items were prevented from using them and the actions of police undoubtedly saved lives.
"Police will continue to combat the threat posed by dissident individuals and groups who plan to use violence to further their agendas.
"We would encourage people in the community to continue to work with us to reduce the threat posed by such reckless individuals so that we can bring them before the courts and keep our communities safe."