Man pressures mother to smuggle drugs into Magilligan Prison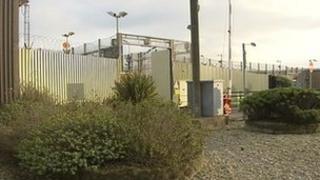 A man who admitted pressurising his mother into smuggling drugs to him in Magilligan Prison has been jailed for six months at Londonderry Crown Court.
His mother has been jailed for six months, suspended for 12 months.
Russell Cummings, 25, from the Crescent in Coleraine pleaded guilty to possessing 98 diazepam tablets inside the prison on 20 March 2013.
His mother Sarah Cummings, 54, from the same address, admitted smuggling the drugs into the prison.
She had no previous convictions.
The court was told that she was recorded on CCTV passing the tablets to her son during a prison visit.
Judge Philip Babbington told Cummings, who had 33 previous convictions, that he had "set his mother up" by having the tablets posted to her before she gave them to him in prison.
He said Ms Cummings had given her son the drugs out of a "misguided sense of loyalty".