Belfast man jailed for four years for stealing whiskey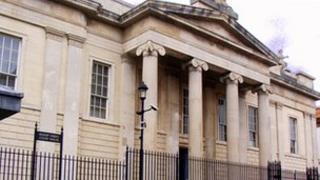 A man who stole two bottles of whiskey from a Londonderry off-licence has been jailed for four years at Londonderry Crown Court.
Darren Victor Beattie, 29, from Euston Parade in east Belfast, admitted stealing the two bottles from an off-licence attached to a bar on Strand Road last October.
He was recorded on CCTV grabbing a staff member by the throat and forcing his face on the counter.
The bottles were later recovered.
Judge Philip Babington was told that Beattie was later found drunk in a corridor in Rock Mills, Derry.
The court was told that Beattie came to Derry three days before the robbery and drank eight litre bottles of vodka.
Jailing Beattie for four years, half of which he will serve without remission, Judge Babington said Beattie had a record of 69 previous convictions, 29 of them for thefts.
He said if Beattie had been convicted of the robbery following a jury trial he would have been jailed for six years.