Brenawn O'Connell killed in Donegal while marshalling cycling event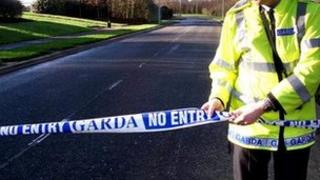 A man who was killed in a road accident in County Donegal on Wednesday was a motorcycle marshal for the Cycle Against Suicide event, which involved about 800 cyclists.
Brenawn O'Connell, 69, was on his motorcycle when the accident involving a lorry happened in Loughmor at about 11:50 BST on Wednesday.
Mr O'Connell, from Tralee in County Kerry, was with the cyclists on day 10 of the event.
The event was postponed on Wednesday.
The incident happened 45 minutes after the group of cyclists left Donegal town.
The driver of the lorry was not injured in the collision.
It is understood the cyclists will now walk part of the route.
The founder of Cycle Against Suicide, Jim Breen, said he was a close friend of Mr O'Connell and that "everyone's hearts are simply broken".
"Our thoughts and prayers are with our dear friend and his family at this incredibly difficult time," he said.
Deirdre McColgan, one of the co-ordinators of Cycle Against Suicide, said: "There is no real heart for people to get on a bike quite yet.
"There's been no decision quite made yet whether or not the cyclists will finish the race completely."