Derry 'Good Samaritan' bomb: RUC officers' legal bid fails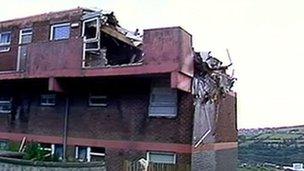 A legal challenge by retired RUC officers against a report citing police failures over an IRA bomb that killed three neighbours has been dismissed.
The officers had gone to the High Court in an effort to have the Police Ombudsman's findings quashed.
But a judge dismissed their bid because proceedings did not begin within three months of the report's publication.
Eugene Dalton, 54, and Sheila Lewis, 68, were killed in the "Good Samaritan" explosion in Londonderry.
A third man, 57-year-old Gerard Curran, died months after being pulled from the rubble in August 1988.
The attack became known as the "Good Samaritan bomb" because the three friends had gone to check on the whereabouts of a neighbour in Derry who had been kidnapped earlier by the IRA.
The IRA later apologised, admitting it planted the booby-trap device in a bid to kill soldiers.
Nearly 20 years later, members of Mr Dalton's family lodged a complaint with the Police Ombudsman's Office that the RUC had been negligent and failed in its duty to uphold their father's right to life under the European Convention on Human Rights.
In July last year, Police Ombudsman Dr Michael Maguire published findings that officers had information about an IRA booby-trap bomb in a house in the Creggan estate, but did nothing to warn residents of the possible danger.
He identified a failure in the police obligation to protect the lives of the public.
The report provoked a furious reaction within the Northern Ireland Retired Police Officers Association.
It launched a legal bid to have the findings quashed and, earlier this year, was granted leave to seek a judicial review.
But it was only then that lawyers for the Dalton family became aware of the proceedings.
They argued that the case must be halted because it was brought more than three months after the report was published and would otherwise leave the family facing further uncertainty.
In court on Tuesday, Mr Justice Treacy set out why a three-month time limit was in place to ensure any judicial review challenges were brought promptly.
He confirmed he was setting aside the granting of leave and dismissing the case due to the delay point.
Following his decision, a solicitor for the Dalton family said they were delighted with the outcome.
Paul Pierce, of KRW Law, said: "They should have been given the opportunity to become involved in this case right from the outset because they had a vested interest, but instead they only had the opportunity to make representations to the court on the day the case was listed for full hearing.
"It was at this time that they had the opportunity to raise the issue of delay and also the fact that the Northern Ireland Retired Police Officers Association had failed to put them on notice of the application."