Lyndsey Bredin: Suspended sentence for £60,000 theft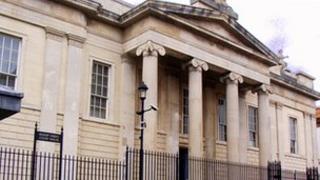 A former treasurer of a Londonderry church parish has been given a suspended sentence for stealing £60,000 of funds.
Lyndsey Bredin, 27, from Primity Crescent, Newbuildings, pleaded guilty to 19 counts of theft between March 2010 and October 2011.
Bredin was treasurer of the Culmore and Muff Church of Ireland parish.
The judge at Londonderry Crown Court sentenced her to 18 months in prison, suspended for three years.
He described her actions as a serious breach of trust that had jeopardised plans to re-roof a church in Muff, County Donegal.
The court heard that after money had gone missing a police investigation found that Bredin was writing cheques from church funds and making them payable to herself.
Bredin made a full admission to police.
The court also heard that the money had been used to pay bills, dine in restaurants and go on weekends away.
The largest single payment was for a car that cost £4,000.
Her defence barrister said Bredin knew she was doing wrong, but had been under serious pressure and had just come out of an abusive relationship.
The judge said her actions had been significant and noted that there was no prospect of the money being repaid.