Pan Celtic Festival: Thousands expected to visit Derry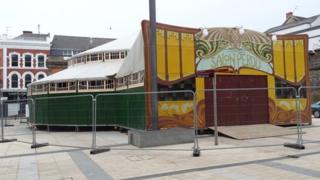 Thousands of people from across the Republic of Ireland and the UK are expected in Londonderry this week for the Pan Celtic Festival.
The festival, which begins on Tuesday, is a six-day celebration of Celtic culture through music, language and sport.
This will be the first time the festival has come to Northern Ireland.
The world-famous travelling venue, the Spiegeltent, will be the main venue for events at Guildhall Square.
The mirrored tent will play host to a line-up of musical acts under the title The Spiegel Sessions.
There will be performances by Declan O'Rourke, Alana Henderson, Breton folk group Barzaz and the Máirtín O'Connor Band.
'Impressed'
Actors will also be walking about the city in traditional Celtic attire.
The festival will be opened on Tuesday by Celtic historian Brian Lacey and will be followed by a performance by a group from each of the Celtic nations in the city's Guildhall.
Trad act Goitse, whose song The Burst Togs was the theme song of Fleadh Cheoil na hÉireann 2013 in Derry, open The Spiegel Sessions on Tuesday night.
The closing event will be a concert with Scotland's Celtic supergroup Capercaillie on Sunday in the Spiegeltent.
Also performing on the final night will be award-winning Dungiven folk singer Maranna McCloskey.
The festival will attract visitors from the Celtic nations of Ireland, Scotland, Wales, Brittany, Cornwall and the Isle of Man.
'Festival atmosphere'
Odhrán Mullan, festival organiser and development and arts manager at Cultúrlann Uí Chanáin, said: "We are proud to bring a world-class selection of performers from across the Celtic nations for the festival, on a par with the high quality of music that we brought for Fleadh Cheoil in August.
"Audiences will be impressed by the diversity of entertainment we have in store and the visitors from the Celtic nations will provide street entertainment throughout the week, contributing to the typical festive atmosphere that has become a trademark of the city.
"Alongside these evening concerts, there will also be a range of family-orientated events in the Spiegeltent including workshops and performances from Glastonbury Festival favourites, the Armagh Rhymers.
"Children will get the opportunity to learn about Celtic culture through a variety of activities, including Celtic art workshops to produce costumes for the Parade of Nations."
Courses and lectures will also be running throughout the week in Cultúrlann Uí Chanáin and the Tower Museum.