Lough Swilly: Union says bus company to stop trading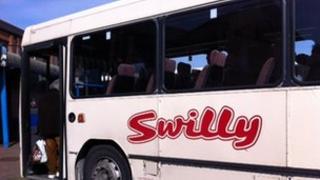 The Lough Swilly bus company will stop trading this weekend with the loss of 80 jobs, according to a trade union.
It follows the appointment of a liquidator. About 20 of the jobs are in Londonderry and the rest are in County Donegal.
Phillip Oakes from the union, Unite, said there are now concerns over redundancy payments because of the firm's substantial debts.
The company have said it has no comment to make at this stage.
Mr Oakes told BBC Radio Foyle that the union has already approached other bus operators to try to save some of the jobs.
"Unite have been making tentative discussions with representatives of the likes of Ulsterbus to see if there are things we could do", he said.
"We were expecting a lot more time before they were going to close the gates.
'Sad day'
"The drivers and mechanics are a skilled workforce with a vast wealth of experience. Any employer would be glad to have them walking through their door."
A meeting of creditors, planned for next Tuesday, has been cancelled.
One employee, who did not want to be named, has worked for the company for 31 years.
"We are all like a big family. There are drivers who have worked here for over 40 years," he said.
"I am doing the 6 o'clock shift on Saturday evening and that will be the last bus out of here.
"It will be a very sad day for us all."